If you haven't yet heard of Living Lean,  you are in for a real treat.
Living Lean is a detox and weight loss program that achieves rapid results in as little as 5 days. Check out these testimonials for proof of our success …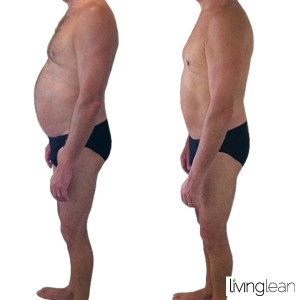 Day 0                             Day 14
"I was sceptical to begin with but once I started and saw the weight virtually fall off me I knew everything I had learnt on the Living Lean program is 100% accurate. I have had so many people commenting on my appearance and new look. I only wish I had found this 10 years earlier."
                                                                                                                                                                                                                                                                                                                                          Glenn 51 years lost 6.9 kgs in 14 days*
"I have tried every diet on the market and nothing comes close to the fast and effective results achieved on this program. This is cutting edge research and something you simply MUST do! I have never felt healthier or looked better."
                                                                                                                                                                                                                                                                                                                                          Craig 33 years lost 8.2 kgs in 14 days* 

"Living Lean is an achievable lifestyle that gives you fast effective results. I lost 9 kgs in 10 days and gained energy, confidence and a new passion for life. Making yourself healthy has never been so easy."
                                                                                                                                                                                                                                                                                                                                          Danielle 34 years lost 9 kgs in 10 days*
"Wow. What can I say about a program that is easy to follow and encourages real, healthy eating? Being 56 kilograms and someone who had attempted every diet imaginable over the past 30 years from the 'Soup Diet' to the 'Atkins Diet' to the 'Low Carb High Protein Diet' I feel I am well qualified to give true perspective on this so called weight loss phenomenon. I can sum it up by using one simple phrase….just do it. The results I have achieved on this program far exceed anything else I have done on any other program in not only total weight lost but the speed at which it occurs. Again, don't hesitate, just do it."
                                                                                                                                                                                                                                                                                                                                          Vivianne 59 years lost 5.2 kgs in 7 days* 
Damien 42 years lost 12.1 kgs in 14 days*
Jane 36 years lost 8.2 kgs in 11 days*
Ben 34 years lost 7.5 kgs in 11 days*
Stephen 49 years lost 7.6 kg in 11 days*
Madelyn 47 years lost 5.1 kgs in 7 days*
Kim 46 years lost 7.3 kgs in 14 days*
Rowan 38 years  lost 7.9 kgs in 12 days*
Julian 34 years lost 13.8 kgs in 14 days*
Shayne, 39 years lost 8.1 kgs in 14 days*
Bridget, 42 years lost 8.4 kgs in 16 days*
Based on the acid/alkaline principle, Living Lean is the rapid weight loss program taking Australia by storm.
Researched and designed by Australia's premier health and fitness expert Ben Sammut, the program's primary aim is to improve the cellular health of the human body. Once cellular health has been improved, the body will rapidly dispose of any stored or unwanted body fat.
That's right, what takes other weight loss products months to achieve, Living Lean attains in days.
Additional benefits resulting from an improvement in cellular health can include the regulation of hormonal imbalances, reduced levels of fatigue, improved skin health and a reduction in the risk of many common diseases.
Suitable for men & women of all ages the specially formulated Living Lean Program will have you consuming high quality natural food to improve body chemistry and ensure safe yet rapid weight loss.
This ground-breaking program has helped countless people exceed their weight loss goals and ensure people look and feel their best.
So is you body chemistry stopping you from losing weight?
Visit our website at www.livinglean.net.au for more information.
Now available in your local Go Vita store.